Owing to their customizable options and comfort, adjustable beds are becoming increasingly common in many homes. An adjustable bed allows you to choose the best sleeping positions to alleviate pressure and pain based on your preference.  And selecting a mattress compatible with your adjustable bed ensures that you experience all its benefits, including customized positioning and pressure relief.
Before buying a mattress for an adjustable bed, consider your unique needs, preference, and sleeping position. Also, ensure that you look for a durable mattress that maintains its shape and level of support when repositioned.
Most mattresses in the market will generally work with adjustable beds, but below are some of the best mattresses for your selection.
Saatva Solaire
The Saatva Solaire is made on a classic airbed design with luxury comfort layers and a wide range of firmness options.  You can adjust this mattress to different levels according to your preference, ranging from soft (3) to firm (8). This mattress is easy to use since it has a remote control that helps you adjust to your desired sleeping position.
Its upper layer consists of responsive Talalay latex followed by a secondary comfort layer of gel-infused memory foam. Additionally, these materials provide a high level of comfort regardless of which comfort level you select.
Depending on the mattress size, the support core has one or two vulcanized rubber.  Therefore, models with two chambers offer separate firmness adjustments on either side of the bed, making it ideal for couples with different preferences.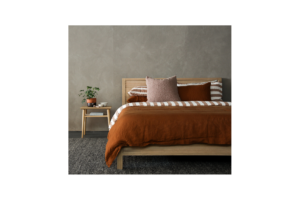 Dreamcloud Mattress
Dreamcloud Mattress is the perfect mattress for back pains since it provides the right balance of comfort and support. When this mattress is adjusted, it relieves pressure and promotes spinal alignment.
Moreover, It is cheaper compared to others hence attractive to value seekers. The mattress' comfort system is infused with gel memory foam that helps relieve build-up pressure by closely conforming to areas like hips and shoulders. It also has a polyfoam transitional layer below the comfort system.  This layer provides extra contouring giving you the best sleeping experience.
Tuft & Needle Mint
Tuft & Needle Mint is well compatible with adjustable beds due to its flexible construction. The mattress has adaptive layers that contours the body, cushions the spine, and regulates pressure for side and back sleepers. The mint has a medium-firm feel; therefore, those exceeding 230 pounds won't experience uncomfortable sinkage. The mint pairs well with different adjustable beds because of its lightweight design. It weighs 80 pounds in a queen size, making it compatible with most adjustable beds within the weight limit. Tuft & Needle brings a refreshing change to those who have felt uncomfortably warm on other mattresses.
Zoma mattress
The Zoma hybrid is constructed with a thick foam system that pairs well with adjustable bed frames.  The mattress has a polyester and spandex cover that gives room for easy stretches and allows you to feel the benefit of the contouring layers beneath it.
Its construction consists of 3 layers of gel memory foam and breathable fabric to pull heat away from the body and prevent overheating, keeping hot sleepers comfortable. The top layer is strategically placed to help relieve pain around the head and shoulders, hips, lower back, and upper and lower legs.
A 2-inch Reactv polyfoam layer silhouettes your body shape but quickly reverts when pressure is removed to ease movement.  These layers work together to ease tension and relieve pressure points.
Amerisleep AS3
The Amerisleep AS3 is the best mattress choice in the market. It is 12 inches in height and has a soft, breathable cover that allows airflow into the mattress, which helps you sleep cooler. Amerisleep AS3 is equipped with three different layers perfect for an adjustable bed.
Bio-Pur® makes the sleeper feel like they are sleeping on a mattress but not in it. The Affinity layer uses HIVE® technology for 5 zone support, firmer areas for light sections like head, back, and legs. And softer sections for heavier areas like hips and shoulders. With a medium feel, Amerisleep AS3 is an ideal mattress for side and combination sleepers.
Conclusion
Adjustable bed frames offer many benefits for sleeping, from elevating aching muscles to reducing snoring. Only a few people can afford adjustable beds due to their high cost and heavy structure, but if you find one that befits you, get there and buy one. Look keenly at the warranty coverage, return policies, and pricing to get the best value. Most mattresses are covered up to 10-year warranties but have different stipulations according to the foundation support used. Therefore, when the mattress is not compatible with an adjustable bed, it may void the warranty by wearing prematurely.