Having an elevator in your house isn't only a sign of splendor and luxury and brings you many benefits. According to a research study on real estate, it was found out that having a home elevator can lift to 10% market value of a property. An elevator is helpful in many ways, but it is of utmost help when carrying or shifting things from one floor to another.
What are the benefits of a home elevator?
We have listed out a few of the many incredible advantages of having an elevator at your place.
● Better mobility
● Higher property rate
● Grants a luxury
● Enhanced safety
● Improved functionality
5 Things to Consider before you Buy a Home Elevator
The first rule of making a big purchase is to think it through. But there are still some factors, including your budget, requirements, maintenance, that can't be neglected or ignored. So, before you finalize buying your elevator, we have a few factors for you to consider.
1. Position/ Location
An elevator requires much more space than you would think. So, let's start with where you can place it. Firstly, find a perfect place either inside or outside of your house. Mostly, people prefer elevators outside their house so that the pathway doesn't get blocked. Keep in mind that the machine room can take much more space than your allocated elevator space. Another significant advice is that you should always approach an architect or a contractor before getting your lift installed. According to an estimate, you will require a minimum of 15-30 square feet of space in your home to get an elevator installed. Check out Stannah for different sizes of elevators.
2. Style of Elevator
Always go for an elevator that matches your house's interior. Your elevator company will have a variety of cab-style elevators for you, so you need to decide on one, and that's why we have a few options for you. If you don't have a big place, then shaftless elevators are your safest choice. You can also have the option of hydraulic elevators, as they are long-lasting and can carry heavy weights. Shaftless elevators can only go up to the first floor, but the hydraulic home elevator can provide a service to more than two floors. One other primary type of home elevator includes MRL (Machine Room-less Elevator). The plus side of this type is that it requires less space and can work while consuming low energy.
3. Budget Plan
We all are aware of the fact that installing an elevator can be expensive. The price mainly depends on your type of design and model. The area or the state you live in can also prove to be a distinguishing factor in the pricing and budget of your home lift. It is noted that installing an elevator during the construction of that house is a little less expensive. A fantastic aspect of buying your elevator from a reputable company is that you get free installation. Principally, various reliable elevator companies offer you good deals, packages, and amazing discounts. So, go for a company that will provide you with free installation.
4. Safety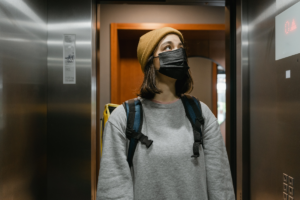 Safety is the one thing that cannot be compromised at any cost. And for safety purposes, you should get your elevator serviced every once in a while. But before that, when you are just getting your elevator installed, you need to contact an experienced contractor. Any professional contractor will ensure that you don't have to face any dangerous or scary situation with your elevator. In case you notice any squeaking sounds from your elevator, you should get it checked right away. A pervasive negligence issue is the overweighing of things or people in the elevator, so be careful about it. Never overweigh an elevator than the capacity written on it.
5. Electrical Equipment
You can choose the electrical panel in the elevator of your choice. Just if you want, you can also get sensors installed in your elevator doors. It suggests that the door will automatically close and open once you are in it. The lights can also come according to your requirements. A great factor in this aspect is that you can have a phone system installed in your elevator. Unfortunately, if you face an emergency or get stuck, you can call for help instantly by using those automated call options. In another case, you can also have a fan installed in your elevator if someone at your house has asthma or claustrophobic issues.
These are some of the factors that are going to help you in getting an elevator installed. We hope you find this article of great help and information.